Posted by: Ben Aug 17 2006, 04:22 PM
SCARBOROUGH BEACH PERTH HIGH RISE BUILDING DEBATE

20 Nov'06:
I hate sprawl but the trade off to high rise should be more PUBLIC open space at ground level. None of the options proposed in the City of Stirling (CoS) online questionnaire show freeing up of space at ground level. Boxing in right up to the foot path on Brighton Road is NOT agreeable to me. I would like to see the set-back from Brighton Road doubled from the current proposal and a height of about 9 or 10 floors not 13. I understand the "Brighton on Scarborough" developers say that's not profitable but I say how can others along the Esplanade make profit with many less floors. Hope 13 floors is an ambit claim and not just greed. The project won't need a pool if a public pool is built at the SSLSC. I say take the private pool out and back off. Winter mornings are cold enough without "Brighton on Scarborough" casting a shadow in the morning where now there's sun. Are the developers going to pay for heating?
What penalties will be applied to building contractors for excessive construction noise for one and a half years? What penalties will be applied to project overrun? CoS have told me there is no limit to the amplitude of the noise.
Yes I want our children to have jobs and yes more people need to live somewhere but lets not have sprawl. Up to 10 floors or in another town are the only sensible choices as I see it.

Today after 9960 views and 160 legitimate reply postings on the old Scarboro forum, I've copied my posting to this safe, secure coastal building development forum as a backup because hackers continue to delete topics and thousands of web spam postings at the old Scarboro forum are just too much to deal with. After nearly 3 years my opinion is still the same. The Minister of Planning has made a good compromise decision of 8 floors. Conditional upon developers is public agreement. CoS Aug'06 plans show zero set back and contrary to ministerial approval show 10 floors at the Esplanade end (west, beach-side) of the proposed development.

Your opinion is welcomed. The City of Stirling consultation period is still open. You can copy your posting (or visa versa) by writing to:
The Strategic Town Planner
City of Stirling
25 Cedric Street
Stirling 6021

Our SEAS submission unformatted is below.

Reminder of your Perth Forum registration agreement: PLEASE NO ABUSE.

Posted by: Ben Aug 17 2006, 04:48 PM
ZERO SET-BACK - POOR PLANNING

Dear Lynette,
Thank you for meeting with me in the foyer of Civic Place today after I paid our rates today and thank you for listening to my opinion of the planned 10 floor Cape Bouvard building on the corner of Brighton Road and The Esplanade. Iíve put my opinions in writing in previous CoS public consultations. Iíve explained it personally to you and in writing reiterate my serious objection to aspects of Cape Bouvardís property development plan in Scarborough.

I object to zero set-back from the 1.2 metre wide foot path on Brighton Road because of
1. Overshadowing in winter of homes on the southern side of Brighton Road.
a. 100% for much of the morning and at least 50% at mid day in winter.
b. Ö resulting in less passive solar heating and
c. increased water heating costs with the electric booster, for our solar water heater, on more often.
d. less photosynthesis with likely numerous garden plant deaths.
Ask CoS planners and councillors if they would like a new neighbour building on the northern side of their home and blocking out winter sun?
2. Lack of pedestrian access. Even now without a popular event, people passing have to step off the footpath to pass. With events like future Life Savings championships and population growth, pedestrians would have to walk on Brighton Road if passing more than one person side by side.
3. Reduced visual permeability of the Indian Ocean from the east of the proposed development.

I saw in your foyer an A4 sized guide for passive solar heating and property development plans over the road from us for 10 floors while the Minister of Planning has only approved 8 floor development with community consultation and approval. Does that mean we can build 10 floors? (and cast a shadow on our neighbours) If we want to have brunch in winter sunlight, weíd have to move off the property. That would be good for cafes next block up north. The pyramid top over the Observation City bottle shop and set-back of Rendezvous hotel from the northern side of Scarborough Beach Road, letís sunshine fall on alfresco diners on the southern side of Scarborough Beach Road. Zero set-back on Brighton Road will stop our passive solar heating. Please ask councillors to either block or amend the Cape Bouvardís plans as I saw you display in mid August 2006, so that we will have full sunshine on our building by 10am where now we get it on the winter solstice by 7am.

Joan R & Ben G.

Posted by: Ben Aug 17 2006, 09:26 PM
The shadow from a new 2 storey high light pole in line with the stupid CoS 12 floors with zero set-back planning on Brighton Road, reaches near homes at noon. Next year after 12 floors are built, the warm winter sun will be just a dream and memory from this picture

Posted by: Ben Nov 23 2006, 09:04 AM
Latest news from insider information indicates that the STUPIDLY planned 12 floor building with ZERO set-back from the footpath on Brighton Road will go ahead. Makes me wonder if people involved with WA Inc and bribery of Busselton civic leaders to support coastal property development, might have also influenced some City of Stirling councillors east of the freeway to mess up Scarborough.

We all want to see development but not POORLY planned development sprawled right up to the narrow 1.2m footpath. Would CoS councilors make such stupid exception to the CoS by-laws in their eastern suburbs and permit shadowing of their homes by Sarich come lately type property developers? I don't think so if they're interested in quality of life rather than selling out for the highest buck, moving away to some sunny place and leaving their constituents in the shadows like the way it is in the high-rise gloom of apartment blocks of former eastern European block cities.

Posted by: Ben Mar 4 2007, 09:10 PM
After um-tine public servants, reports and public comment, this blight on one of the http://www.beachholidays.info still remains well over a week. I bet if we had of towed it to the Clock Tower, it would have been towed away by now.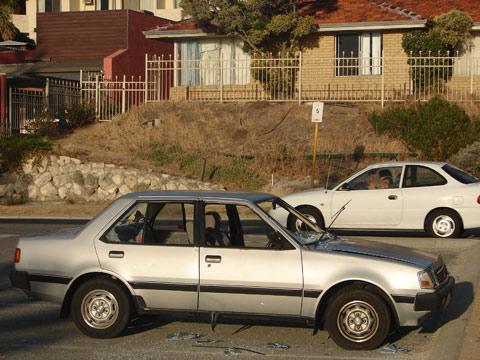 Part of the CoS and developers' rational for property development was that tenants above commercial properties could keep an eye on things. The squatters living in the corner block smashed this car with a golf club.

How long do we have to walk on broken glass and look at this eye-sore? It's easy for developers to pass the buck to property managers after they've sold but if this sort of anti-social behaviour is happening before they sell, what chance is there after. If the owners lack of action / care about the community they stand to profit from is a sign of the future, then the community, via it's civic leaders should demand:
(I) demand the owners of this corner block have their property manager properly control anti-social people who live in their homes.
(II) corner property owners stop SAND emanating from their corner block flooding the public footpath (as it has been for MONTHS; this is the same path featured in the City of Stirling propaganda video, shown in their propaganda centre and to community groups. We use our own cart to cart food back from the Luna market. We pull it along http://www.scarboro.info/theesplanade.htm road surface near Brighton Road to avoid sand in the wheels and axles. Observed the same with people pushing prams, skaters, etc)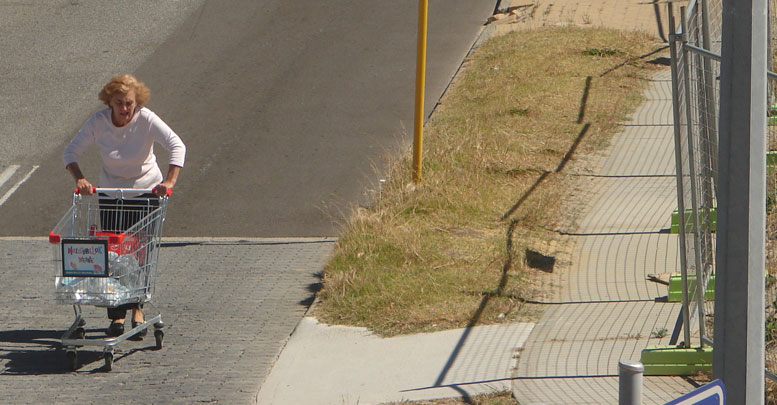 The City of Stirling propaganda video shows smiling families alfresco dinning on very wide footpaths. A wide footpath is not planned for Brighton Road and I estimate it will be a couple of years of waiting before it happens on the Esplanade.

Posted by: Ben Jun 20 2007, 01:15 PM
City of Stirling Approves 458

12 storey buildings east of West Coast Highway and 8 stories south of Brighton road approved.

http://www.abc.net.au/news/stories/2007/06/20/1956337.htm