Posted by Ben, Jan 27 2009, 08:03 AM
Australia Day Perth

Australia Day started with a swim at Scarborough Beach with my son. After losing weight from my low cholesterol diet it was going to be a day of eating for enjoyment even if it meant dying earlier. Delicious oysters at Cafe Del Pescatore were followed by a traditional Australian meat BBQ at the public BBQ on the Scarborough Beach foreshore with Jill, Anna and friends. After being in the sun in a sailing regatta most of the day before I could feel sun burning and almost turned down an invitation to spend the afternoon on a boat on Perth waters.

The vast deck of the ex-crayfishing boat was a wonderful party platform. Many other boats anchored in Crawley Bay were packed with party goers, as were the banks of the Swan River. Music and laughter drifted across the water as our wonderful hosts Peter and Nola kept serving up great food and drinks.

Party Goes Drifting By

Sunset brought out the best light and aircraft before the Australia Day fireworks display over the Swan River. My spare camera batteries were so low that it was a matter of point an shoot.

Bi-planes reminded me of the 7 Tiger Moths my Dad owned. Sitting in the front cockpit with my sister while my dad at the control (joystick) in the back cockpit, diving over Maylands aerodrome before doing loops. The G-forces and flying upside down in an open cockpit plane were very memorable. In the sky above Perth waters on Australia Day were: acrobatic plans looping and barrel rolling, Australian airforce jet fighter plans, helecopters dragging HUGE Australian flags, and huge fire fighting helecopters.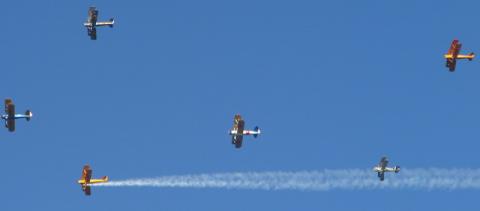 A Perth radio station pumped out Australian music, synchronized to the massive fireworks display. Familiar voices gave great commentary of connecting music with past decades including the decade I missed Australian culture. Beautiful was reflection on the Swan River of the fireworks and a powerful green laser.

The amarda of yachts and luxury boats, big and small, heading home on the Swan River at night was a sight to see.



Photo of our host, captain Pete on Australia Day with house boat on the Swan River in background.
Comments
There are no comments on this entry